Thanksgiving is a federal holiday celebrated in the United States on the fourth Thursday of November. While it is frequently associated with spending time with family, there are many ways to celebrate Thanksgiving at home and in school. In this article, learn more about how private schools can celebrate the Thanksgiving holiday.
Academic Approach To Holiday History
Instead of learning how Pilgrims and Native Americans celebrated the harvest and their friendship in the New World, students can delve deeper into learning about how European settlers took land that ultimately affected the Native American populations already here.
The first Thanksgiving took place in 1621 when a group of Wampanoag celebrated the successful harvest with English people in Plymouth, Massachusetts. However, unlike what many stories of Thanksgiving suggest, it wasn't the Wampanoag's first interaction with the English, nor would it be their last. Ultimately, many Indigenous people ended up losing their homes. As a result, for many Indigenous people, Thanksgiving is a national day of mourning.
Teaching about Thanksgiving in a historically accurate way requires cultural sensitivity. In a private school setting, it is often possible to be more culturally sensitive and aware of this topic. This can include paying respect to Native American communities and learning more about Indigenous cultures in November.
Taking Time To Celebrate & Give Thanks
Thanksgiving is also a time for reflection and giving thanks. For many people, it's a time to spend with family and friends, eating traditional foods. Some private schools may use this time to celebrate the accomplishments of their students and teachers throughout the year. If a classroom participated in a volunteer project, for instance, those students might be recognized during a Thanksgiving celebration.
Unique Celebrations
Private schools can take the opportunity to host a special event or activity to honor their core values and mission statement. Private schools often take pride in diversity and family values so during the month of November they can host an activity about this. While each school will celebrate this differently, it is common to have special opportunities to share gratitude during this season.
Performances & Community Service Projects
Holding performances that include plays, poetry, and music about gratitude and the history of Thanksgiving is common for many schools during this time of year. Students might be asked to write their own poems or skits; teachers might select work that has already been published. Sometimes these performances take place during the school day, just for students and teachers. However, there are some cases where the performance will be held after school with students' families invited to attend.
Private schools may also participate in community service projects. This could look like a field trip to participate in an off-site activity, such as cleaning up litter at a local park. It could also mean drawing and writing out cards to thank military service members who aren't able to spend the holiday season with their families. Whether in school or at home, Thanksgiving creates an excellent opportunity to introduce young children to the concept of community service.
School Assemblies & Fun Gatherings
Thanksgiving celebrations are often held in the form of an assembly or school-wide gathering. Students from classrooms of all ages can express their thanks to one another and for all that they have received throughout the year. During these events, students may be asked to showcase Thanksgiving-themed art projects or speak about what they are grateful for.
Thanksgiving Feasts
Many private schools host feasts during Thanksgiving week that are like those found in many traditional American homes. This could take place during regular school hours or at night, so families can also attend with their children.
These feasts typically include dishes such as turkey with stuffing, mashed potatoes with gravy, cranberry sauce, green beans, and sweet pumpkin pie. These are items that are recognizable to most Americans as classic Thanksgiving fare. It can be educational for students to learn about Thanksgiving foods this way. In some cases, you could be asked to contribute a food dish to a potluck, much like you would be asked to participate during a work or church potluck.
Special Projects
Private school classrooms often host special projects related to Thanksgiving. This can involve making crafts about what students are thankful for, or how they plan on helping others during the season of giving. These projects can be educational as well as entertaining for younger children who may not yet understand all aspects of the holiday, but still wish to participate in its celebration.
Focusing On The Importance of Community
Private schools can use Thanksgiving to bring families, students, and teachers together to strengthen their bonds and improve the overall academic community. While this naturally occurs during special events, there are other ways to foster that feeling of community, such as having students create family trees or gratitude journals to take home.
Gratitude Beyond The Holiday
The core concepts behind Thanksgiving – gratitude, reflection, and community – are often part of a private school's curriculum throughout the entire year. That means these concepts can be celebrated during Thanksgiving and then continue to be highlighted throughout the year.
Jacquline Sewell-Lowers
2023-08-14
Michelle Rivera
2023-07-20
It is such a relief to finally have found a preschool that I trust to care for my son! This school is amazing! They are so warm and welcoming and INCLUSIVE. They don't make kids/parents feel bad for being unique, in fact it is encouraged which I LOVE. My son has learned so much in the short amount of time he's gone there. He is already writing his name and reading site words at 4! He is also very shy and makes it known when he doesn't like something, but he comes home every day talking about all the teachers and his friends and how much fun he's had. I'm so grateful for the JLP Inspiring Minds staff for taking such great care of my boy and helping him excel!
Private Schools In Tamarac, Florida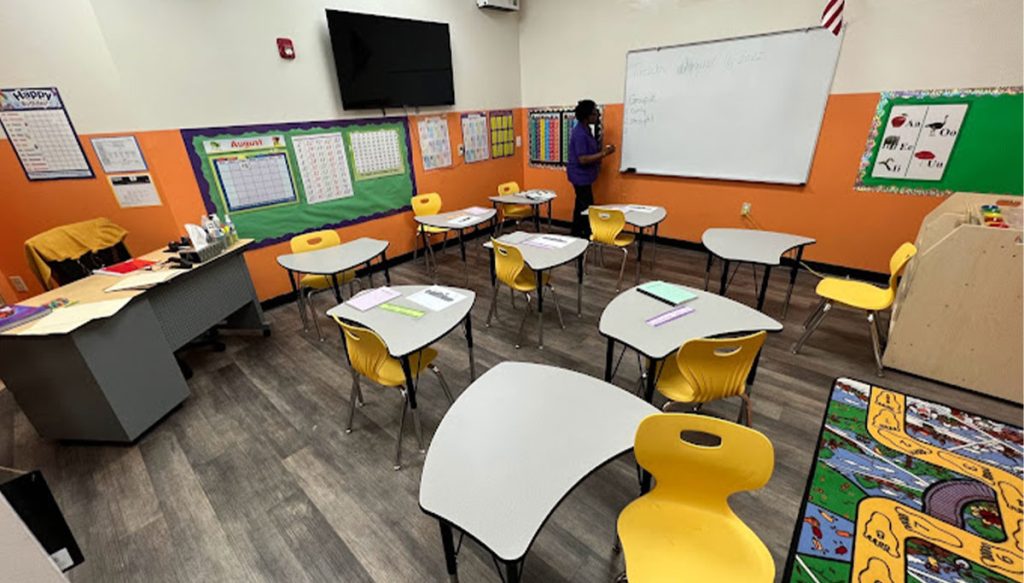 Thanksgiving is a great time for reflection and gratitude. The staff at JLP Inspiring Minds Private School strive to teach these values to students year-round through books, crafts, and other age-appropriate activities.
Our private education ensures a well-rounded, individualized approach to help children develop a life-long love of learning. To learn more about our K-5th Private School in Tamarac, call today at 954-746-5437.